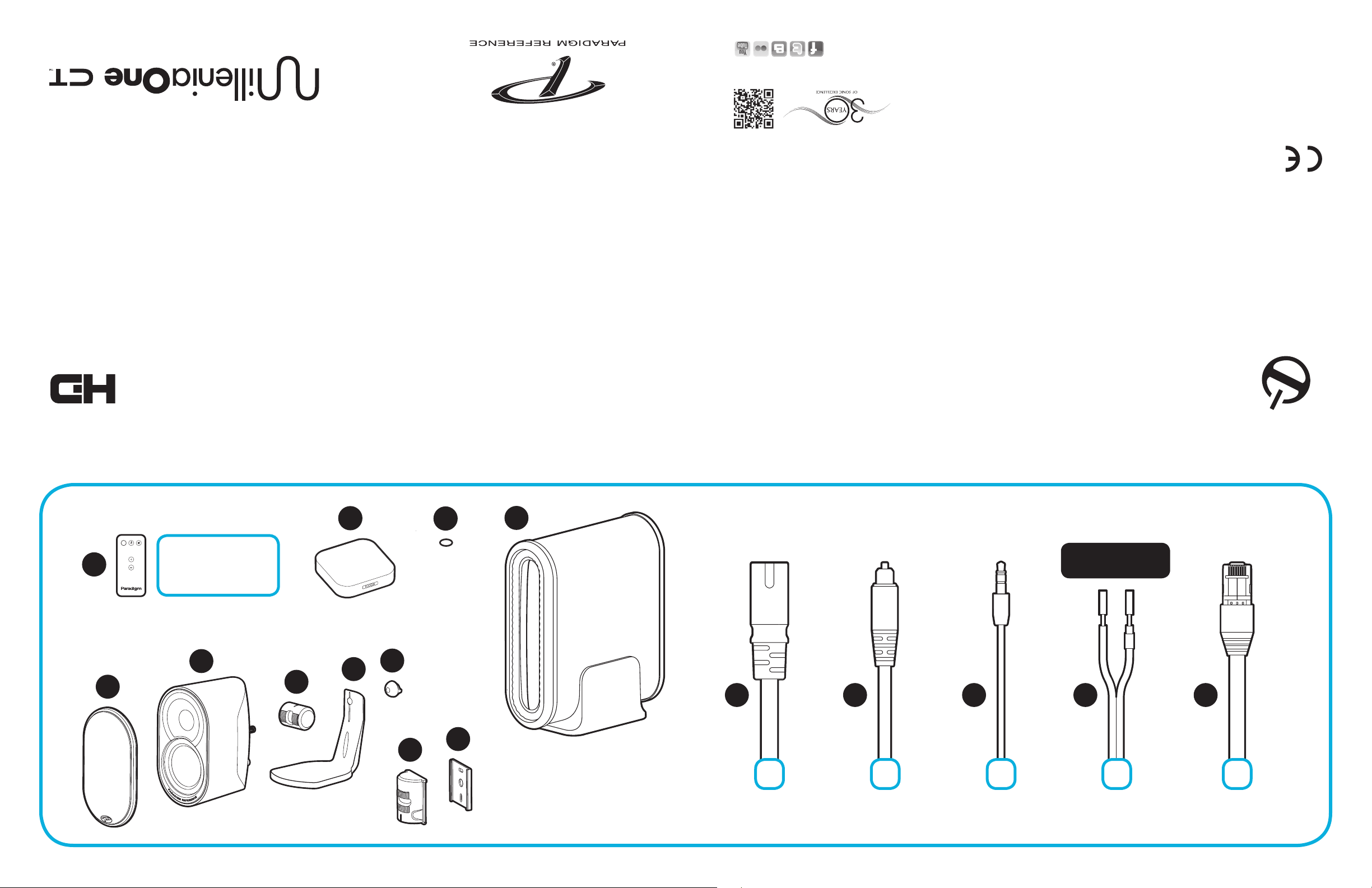 Set-Up Guide
REV. 072012 MAN0077
For more information visit
www.paradigm.com
205 Annagem Blvd., Mississauga, ON Canada L5T 2V1
Paradigm Electronics Inc.
without notice as design improvements are incorporated. the property of their respective owner(s). Paradigm Electronics reserves the right to change specifications and/or features trademarks of Paradigm Electronics Inc. Copyright © Paradigm Electronics Inc. All rights reserved. All other trademarks are Paradigm Reference, MilleniaOne CT and associated proprietary and patented designs and technologies are registered
™
HIGH-DEFINITION SOUND
What's in the box …
Input
1x
IMPORTANT:
System can only be operated using the Remote Control.
Remote Control includes CR 2025 3V lithium battery
1x
4x
1x
6' Power Cable
This end … to subwoofer
6' Optical Cable
… to control box
"DIGITAL IN"
6' 3.5-mm Cable
… to control box
"ANALOG IN"
15' Speaker Cable
… to subwoofer
Pull o plastic tips before attaching cables
™
15' Controller Cable
… to control box
"TO SUB"
2x
2x
2x
2x
2x
2x
2x
Vertically:
Do not operate subwoofer without stand.
1
2
3
4
1x
5
Horizontally:
Remove stand and use bumper pads
(included)
on each corner.
This end … to wall outlet
… to TV for digital audio
… 3.5-mm to TV for analog audio
… to speaker
… to subwoofer