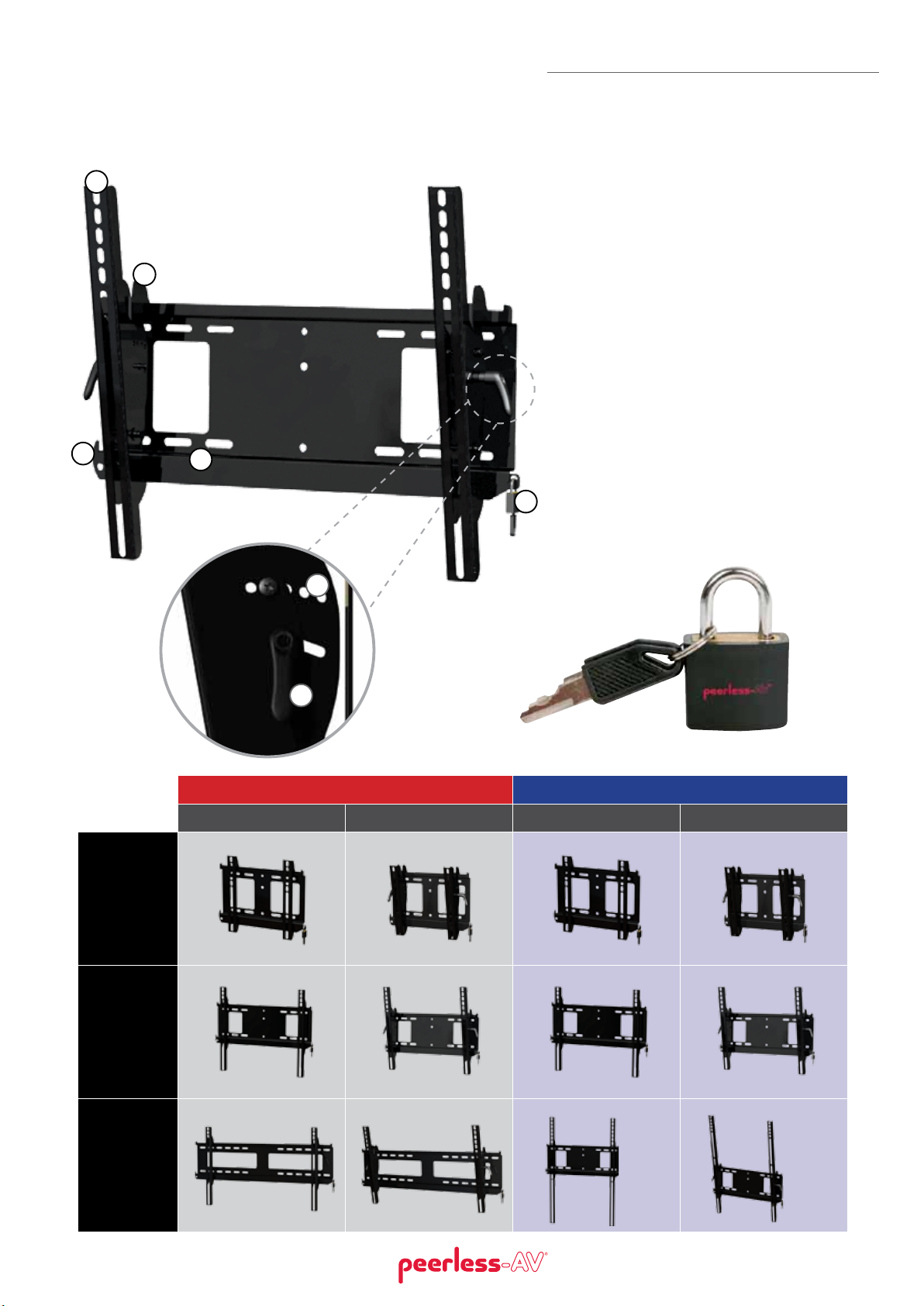 Product Features & Benefits
Peerless' new Security Locking Mounts offer the next level of security within the wall mount range with a secure locking bar and provided pad lock. With 3 size ranges in flat to wall, tilting, and portrait mountable solutions, this line provides a high level of theft deterrence for 15" to 58" screens in public areas where security is of higher concern.
1
1.
Wide screen compatibility with maximised
mounting patterns; 635 and 640 models display screens in landscape and portrait
2
7
6
5
Model shown: PTL640
orientations
2.
Lateral adjustment to position screen at desired location
3.
Unique Increlock™ sets screens at -5°, 0°, 5°, 10° or 15° tilt
Ratcheting knobs allow continuous +15°/-5°
5.
Provided security padlock adds visual theft deterrence
6.
Easy to install locking bar installs from either side
7.
Ramplock™ feature on lock bar reduces screen movement and vibration after engagement
SMALL
15" – 37" LCD
56kg/125lb
VESA 200X200
MEDIUM
26" – 46" LCD
68kg/150lb
VESA 400X400
3
4
LANDSCAPE
PORTRAIT
PFL635
PTL635
PFL635
PTL635
PFL640
PTL640
PFL640
PTL640
LARGE
32" – 58" LCD
& PLASMA
79kg/175lb
VESA 700X400
68kg/150lb
PTLP650
68kg/150lb