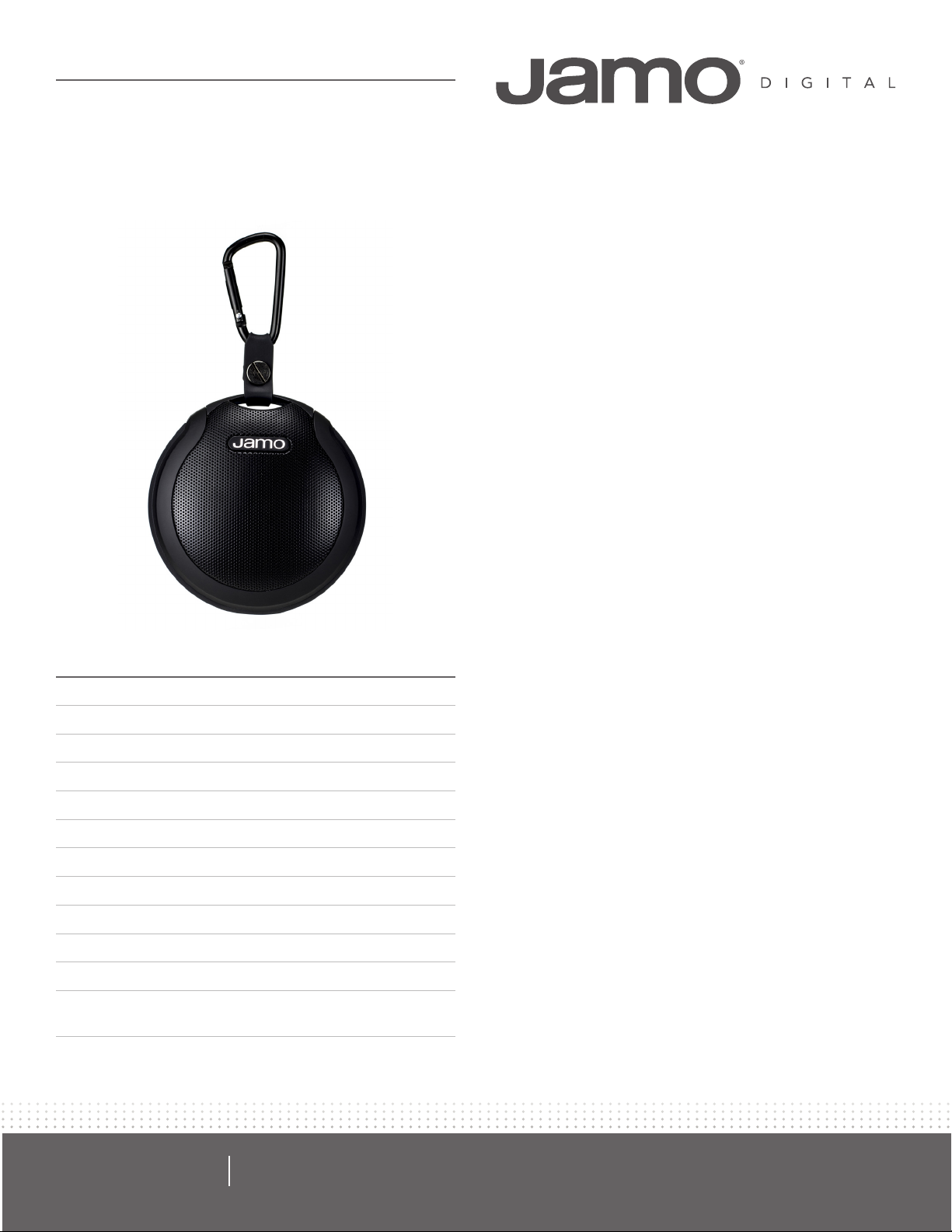 DS2
WIRELESS ADVENTURE SPEAKER
SPECIFICATIONS
FREQUENCY RESPONSE
150 Hz - 20k Hz
ENCLOSURE TYPE
Sealed Enclosure
INPUTS
Bluetooth, SD card, FM
BATTERY TYPE
Lithium Polymer Battery
ACCESSORIES
Hook, USB Cable
BLUETOOTH® WIRELESS TECHNOLOGY
& SPEAKERPHONE
Take your music into the great outdoors without
the hassle of wires. The DS2 wireless adventure
speaker seamlessly connects to your Bluetooth
enabled phone or music player and allows you
to pick up and drop calls without taking your
phone out.
®
WATERPROOF HOUSING
With an IPX5 rating, you can hit the trails, beach
or pool without worrying about rain, snow or
dropping it in a puddle.
SHOCK PROOF DESIGN
The durable silicon structure of the DS2
adventure speaker can easily withstand the
bumps and bruises of the rugged terrain that
lies ahead.
DUSTPROOF CONSTRUCTION
Don't let dirt, sand or dust stop you from
enjoying your music.
6 HOUR USB RECHARGEABLE BATTERY
The lithium ion battery recharges quickly with
the provided USB cable.
NO SIGNAL? NO PROBLEM
The DS2 wireless adventure speaker has a micro
SD memory card port so you can listen to your
music off the grid.
FM RADIO
Why limit yourself? Listen to your favorite FM
music, sports and talk radio stations with the
DS2 wireless adventure speaker.
DIMENSIONS
89mm H, 89mm W, 38mm D
3.5" H, 3.5" W, 1.5" D
WEIGHT
0.18kg Without Accessories
ALL SPECIFICATIONS SUBJECT TO CHANGE WITHOUT NOTICE
JAMO.COM
©2016 KLIPSCH GROUP, INC. JAMO IS A REGISTERED TRADEMARK OF KLIPSCH GROUP, INC. IN THE USA AND OTHER COUNTRIES. A WHOLLY-OWNED SUBSIDIARY OF VOXX INTERNATIONAL CORPORATION. THE TRADEMARK OWNED BY BLUETOOTH SIG, INC. AND ANY USE OF SUCH MARK BY KLIPSCH GROUP, INC. IS UNDER LICENSE.
BLUETOOTH
®
WORD MARK IS A REGISTERED
V03 - 0517