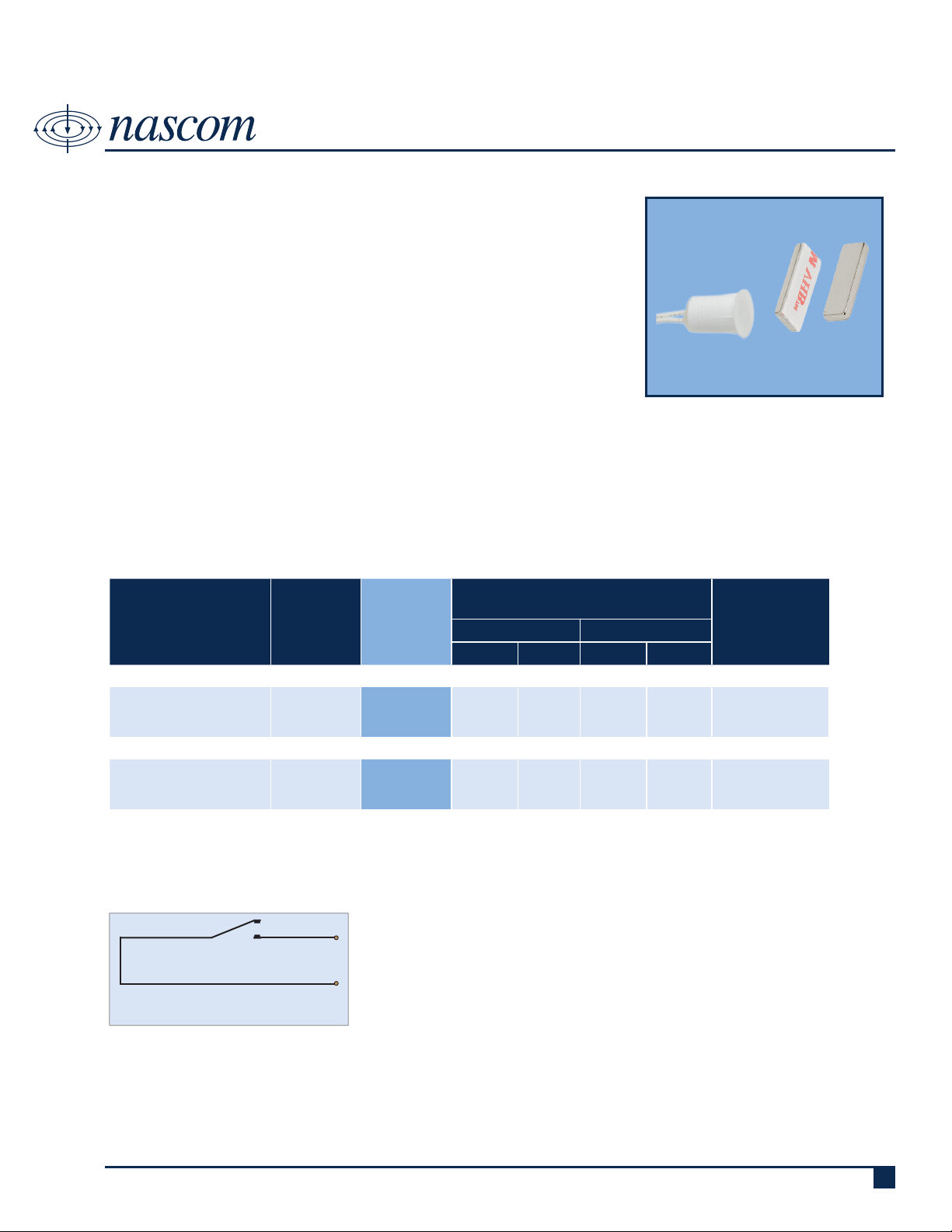 N1175 UM 123787
3/8" RECESSED ULTRA MINI CONTACT WITH NdFeB BAR MAGNET
DESCRIPTION
Nascom's N1175 UM 123787 Series, ultra-mini 3/8" recessed contact with NdFeB bar manget, protects all nonferrous (e.g. wood, aluminum and vinyl) doors and windows, in both residential and commercial settings.
The N1175 UM 123787, our shortest 3/8" press t switch, is the installer's choice of contact conguration where drill depth is critical and excellent air
and side-to-side gaps are required to prevent false alarms caused by shifting or warping doors and windows.
FEATURES
•
PRESS FIT SWITCH - NO GLUE REQUIRED
•
ENCAPSULATED HERMETICALLY SEALED CONTACTS
•
12" 22AWG WIRE LEADS
•
POLYPROPYLENE HOUSINGS
•
WIDE GAP - N35 NdFeB RARE EARTH MAGNET
•
LISTED TO UL634 STANDARD
ORDERING INFORMATION
CONTACT RATING
PART
NUMBER
COLOR
OPERATE
GAP
(in inches)
(Max DC/Peak AC Resistive)
CLOSED LOOP, NORMALLY OPEN, 1FA, SWITCH/MAGNET SET:
N1175UM123787B/ST N1175UM123787G/ST N1175UM123787W/ST
HIGH SECURITY, NORMALLY OPEN, 1FA, SWITCH/MAGNET SET:
N1175UM123787B/STHS N1175UM123787G/STHS N1175UM123787W/STHS
0.40 to 0.75
200 VDC

0.5 Amps

10vA

1.5 Amps

150 mOhms
0.25
Amps
WIRING SCHEMATIC - IN [mm]
SWITCH CONTACT
CLOSED LOOP, NORMALLY OPEN CONTACT
10vA
0.25
Amps
STATIC
CONTACT
RESISTANCE
(50mV, 100mA)
150 mOhms
initial
Royne Industries LLC, dba NASCOM
|
P: 800.843.5530
|
F: 800.727.4041
|
www.nascominc.com
DWG No. 131119-08- Rev. 1