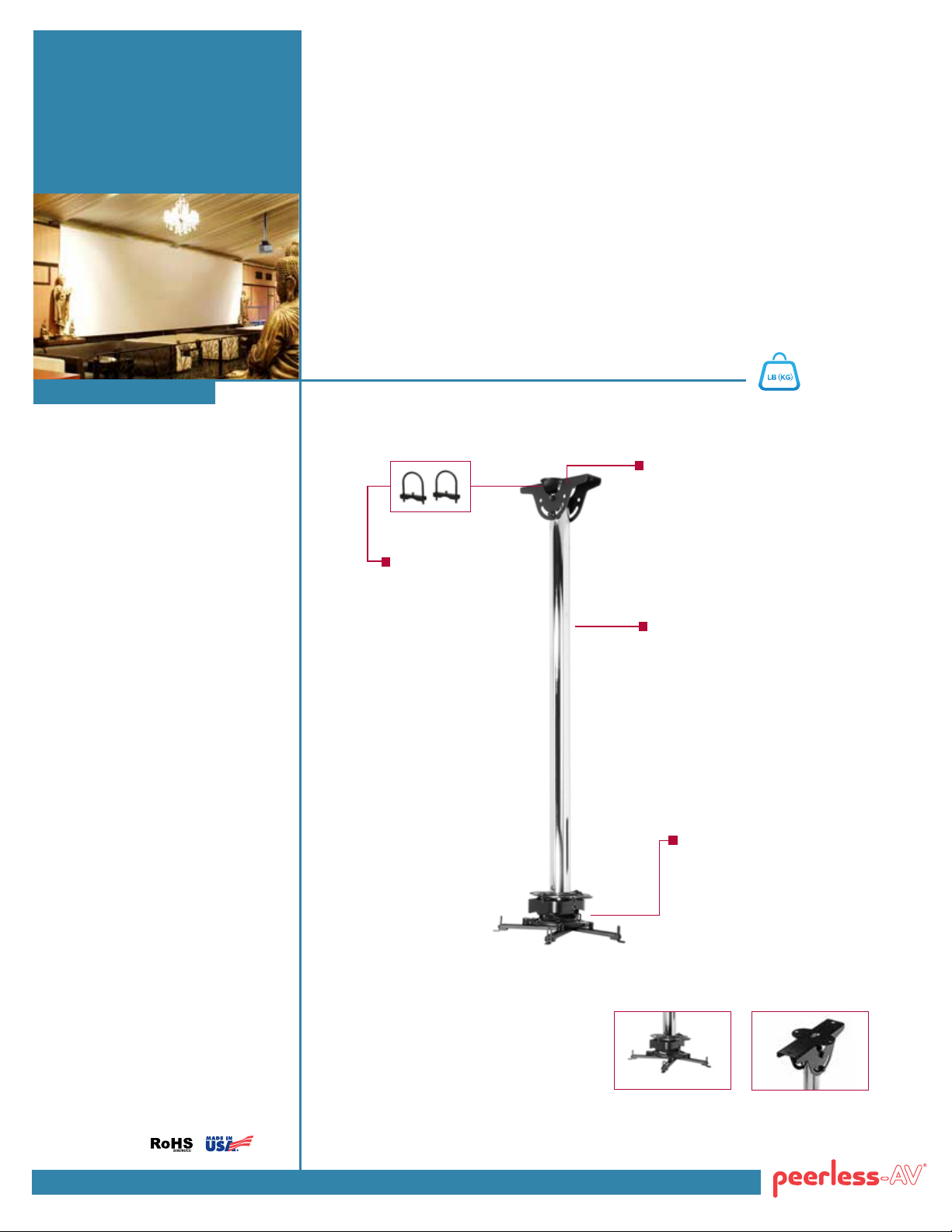 MOD-PRSSKIT100(B) MOD-PRSSKIT150(B) MOD-PRSSKIT300(B)
Modular Series PRSS Projector Mount Ceiling Kit
For Projectors up to 50lb (22kg)
The Peerless-AV® Modular Mount Line includes a small and easily manageable number of sku's,
yet provides a full range of options that can fulll a vast majority of end-user requirements. Universal components make it quick and easy to design and congure the perfect custom projector mounting solution, ideal for any application.
Designed around a 2" (50mm) diameter extension pole, the line is ideal for new projects as well as upgrading existing installations.
The MOD-PRSSKIT100/150/300 Ceiling Mount Kits include all of the components required to mount a projector from the ceiling. As part of the Peerless-AV Modular Series, it can be expanded
with additional Modular accessories (sold separately) to accommodate virtually any custom
conguration.
FEATURES

Pre-assembled Kit includes:
- Cathedral ceiling plate
- Chrome or black extension pole in lengths of 39" (1m), 59"
(1.5m), or 118
" (3m)
- Universal Spider Mount Adaptor
®
Projector

Cathedral ceiling plate
can be angled ±60° for use with vaulted or sloping ceilings
installation with drops of 39" (1m), 59"
(1.5m) or 118
" (3m) in height
®
designed to work with
nearly all projectors
weighing up to 50lb (22kg)

Three axes of independent
adjustment provided by the PRSS projector mount
enable precise image alignment
adaptor
MOD-AUB
UNIVERSAL MOUNTING
Installs to wood joist and
concrete or to truss/pipes via accessory clamp kit MOD-AUB
Max load: 50lb (22kg)
INTEGRATED CABLE MANAGEMENT
Protects, contains and conceals cables for a clean, professional installation
MATCH ANY DECOR
Extension pole available in black or chrome
INDEPENDENT ADJUSTMENT
Provides +15°/-20° Pitch, ±5° Roll, and 360° of Swivel
Patent Universal
Spider® Adaptor
CLICK:
peerless-av.com
CALL:
800.865.2112
FAX:
800.359.6500