EAP110 Enterprise Access Point
ENGLISH
Copyright Notice
This document is protected by USA copyright laws and other laws. Besides, the document is the property of 4IPNET, INC. You may not copy, reproduce, distribute, publish, display, perform, or modify any part of this publication in any form or by any means without prior written permission from 4IPN ET, INC. You may not alter or remo ve any copyright or other notice from copies of the conte nt. All o ther brand and p roduct names are claimed or registered marks of their respective companies or organizations.
All rights reserved.
To download up-to-date version, please visit www.4ipnet.com.
Copyright © 4IPNET, INC. All rights reserved.
i EAP110 Enterprise Access Point
ENGLISH
FCC CAUTION
This equipment has been tested and proven to comply with the limits for a class B digital device, pursuant to part 15 of the FCC Rules. These limits are designed to provide reasonable protection against harmful interference in a residential installation. This equipment generates uses and can radiate radio frequency energy and, if not installed and used in accordance with the instructions, may cause harmful interference to radio communications. However, there is no guarantee that interference will not occur in a particular installation. If this equipment does cause harmful interference to radio or television reception, which can be determined by turning the equipment off and on, the user is encouraged to try to correct the interference by one or more of the following measures:
---Reorient or relocate the receiving antenna.
---Increase the separation between the equipment and receiver.
---Connect the equipment into an outlet on a circuit different from that to which the receiver is connected.
---Consult the dealer or an experienced radio/TV technician for help.
The device contains a low power transmitter which will send out Radio Frequency (RF) signal when transmitting. This equipment complies with FCC RF radiation exposure limits set forth for an uncontrolled environment. This equipment should be installed and operated with a minimum distance of 20 centimeters between the radiator and your body.
You are cautioned that changes or modifications not expressly approved by the party responsible for compliance could void your authority to operate the equipment.
Copyright © 4IPNET, INC. All rights reserved.
ii EAP110 Enterprise Access Point
ENGLISH
CE CAUTION
Declaration of Conformity with Regard to the 1999/5/EC (R&TTE Directive) for European Community, Switzerland, Norway, Iceland, and Liechtenstein Model: EAP110
For 2.4 GHz radios, the device has been tested and passed the requirements of the following standards, and hence fulfills the EMC and safety requirements of R&TTE Directive within the CE marking requirement.
• Radio: EN 300.328
:
• EMF: EN 50385:2002
• EMC: EN 301.489-1, EN 301.489-17
• Safety: EN 60950-1 + A11,

This declaration is only valid for configurations (combinations of software, firmware, and hardware) provided
and supported by 4IPNET, Inc. The use of software or firmware not provided and supported by 4IPNET, Inc. may result in the equipment no longer being compliant with the regulatory requirements.
European standards dictate maximum radiated transmit power of 100mW EIRP and frequency range
2.400-2.4835 GHz. This equipment is intended to be used in all EU and EFTA countries. Outdoor use may be
restricted to certain frequencies and/or may require a license for operation. Contact your local regulatory authority for compliance.
根據 NCC 低功率電波輻射性電機管理辦法 規定:
第十二條
第十四條
經型式認證合格之低功率射頻電機,非經許可,公司、商號或使用者均不得擅自變更頻率、加大功率或
變更原設計之特性及功能。
低功率射頻電機之使用不得影響飛航安全及干擾合法通信;經發現有干擾現象時應立即停用,並改善至 無干擾時方得繼續使用。
前項合法通信,指依電信法規定作業之無線電通信。 低功率射頻電機須忍受合法通信或工業、科學及醫療用電波輻射性電機設備之擾。
Copyright © 4IPNET, INC. All rights reserved.
iii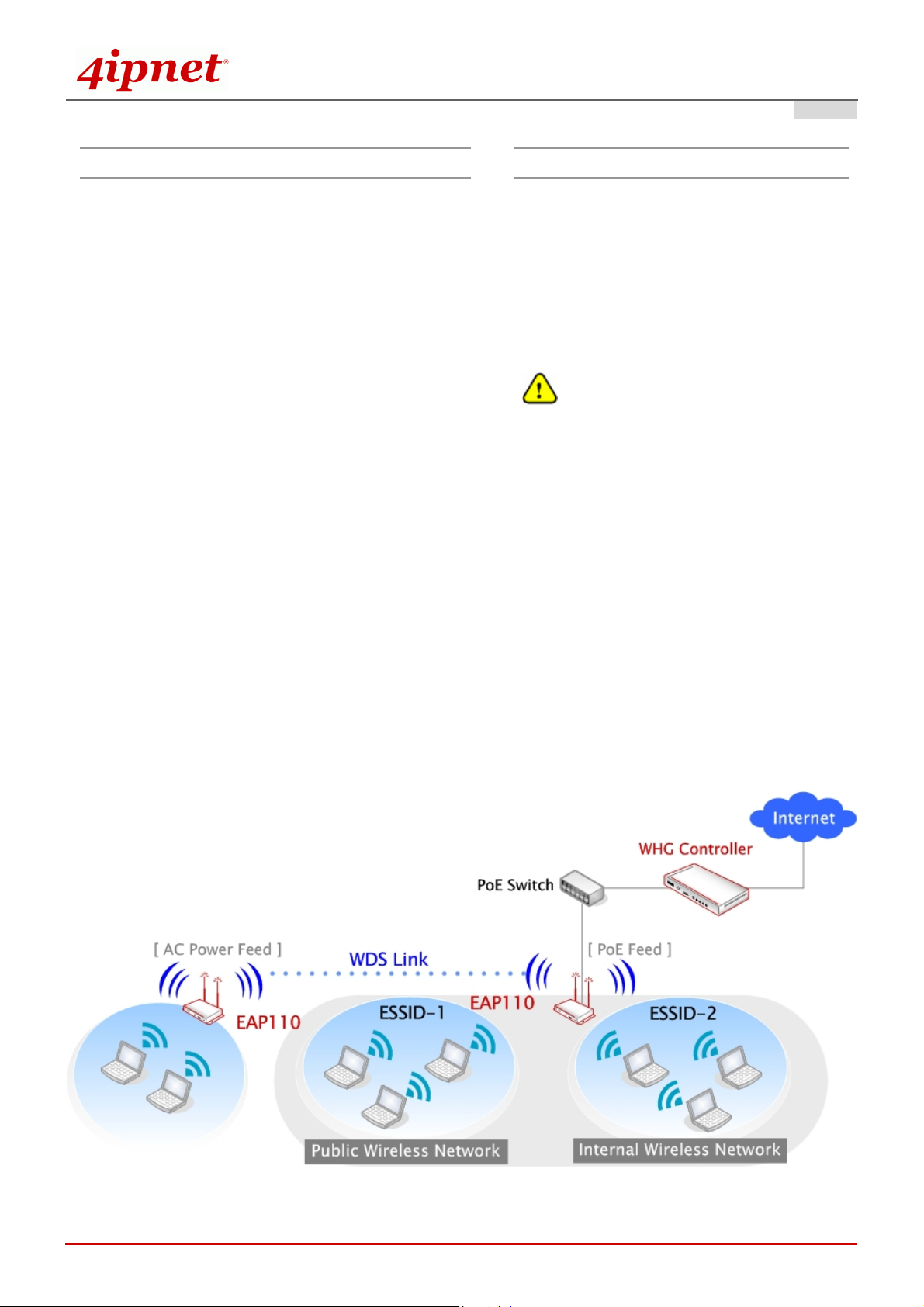 EAP110 Enterprise Access Point
ENGLISH
Preface Package Contents
4ipnet EAP110 is a high-end 802.11n/b/g 2.4GHz MIMO Access Point (AP) with the best price/ performance for wireless connectivity in enterprise and industrial applications and is compliant with the latest industrial wireless security standards. EAP110 makes the wireless communication fast, secure and easy. It supports business grade security such as IEEE802.1X, and Wi-Fi Protected Access (WPA and WPA2). EAP110 also features multiple ESSIDs with VLAN tags and multiple Virtual APs; great for enterprise applications, such as separating the traffics of different departments using different ESSIDs. The PoE LAN port can receive power from Power over Ethernet (PoE) sourcing device. Its metal case is IP50 anti-dust compliant, which means that EAP110 is well suited to WLAN deployment in industrial
1. 4ipnet EAP110 x 1
2. Quick Installation Guide (QIG) x 1
3. CD-ROM
(with User's Manual and QIG)
x 1
4. Power Adapter (DC 5V) x 1
5. Antenna x 2
It is recommended to keep the original
packing material for possible future shipment when repair or maintenance is required. Any returned product should be packed in its original packaging to prevent damage during delivery.
environments. This Quick Installation Guide provides instructions and reference materials for getting started with 4ipnet EAP110.
Copyright © 4IPNET, INC. All rights reserved.
Network Layout with EAP110s
1